It may not be summer, but it certainly feels like it in Atlanta. As I spend my time moving from one haute spot to another… the sun can be harsh on my skin. But in order to get the glow that makes my skin look sun-kissed, I get a little help from Clarins. One of my all-time favorite products is the Clarins' After Sun Moisturizer with Self-Tanner. I use it every time I travel to Mexico, the Caribbean or the Bahamas after spending a day on the beach. It locks in my tan to reveal even tone that makes my skin look more radiant. It even adds hydration to the skin. In fact, I don't even have to wear much makeup… just a little lip gloss and a dusting of mineral or bronzing powder.
After years of being an unofficial "brand advocate" for Clarins... it's no wonder they asked me to try their new Delectable Self Tanning Mousse with Mirabelle Oil. I was more than happy to help out. When my products arrived at my door, I was ready to pop the top and start using it.
Here's my review of Clarins' Delectable Self Tanning Mousse:
I generally find that many self tanning products are messy and don't spread or spray on evenly. However, I was pleasantly surprised to find that the new Delectable Self Tanning Mousse is not only luxurious with a whipped creamy texture, but it pampers the skin taking the art of tanning without the sun to an entirely different level. This 3 in 1 product offers self-tanner, moisturizer and sun care with SPF 15. After a few days of using it, my skin gradually took on a bronze-like hue. I can even apply it to my face to get it GLOWING. This product offers the best solution to tanning without the sun. I love it!
Retails $42 To learn more visit http://us.clarins.com/webapp/wcs/stores/servlet/clarins-cosmetics_10051_10204_-1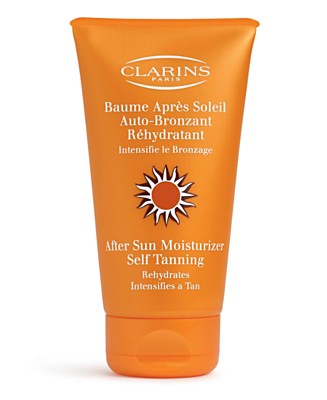 Are you thinking about trying Clarins Delectable Self Tanning Mousse or After Sun Moisturizer Self Tanner?